In this Update:
Cumberland County Residents Participate in Wreaths Across America Ceremony at Capitol
Regan Engages Nominees during Senate Confirmation Hearing
Ready-to-Drink Cocktail Language Amended into Regan License Auction Bill
Senate Approves Measures for Parental Choice and Oversight in Education
Comprehensive Probation Reform Approved by Senate
Deadline Approaching for Property Tax/Rent Rebate Applications
---
Cumberland County Residents Participate in Wreaths Across America Ceremony at Capitol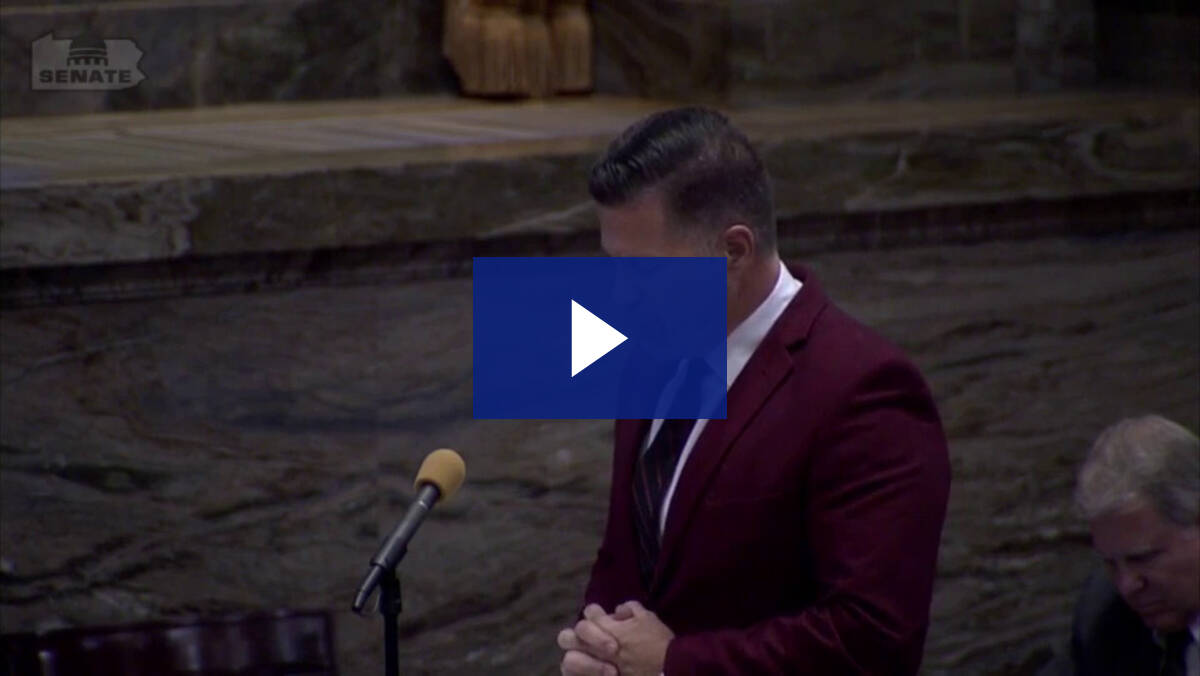 On Tuesday, a beautiful ceremony recognizing Wreaths Across America was held in the Capitol Rotunda, and Cumberland County had several participants throughout the event.
Cumberland County Honor Guard members Eddie Brennan, Dennis Bucks, Ed Miller, and bugler Doc Roeder posted the colors and played taps, Carlisle High School Sophomore Alessia Iannuzzi sang the National Anthem, and Boy Scout Troop 185 from Newville led attendees in the Pledge of Allegiance.
Following the ceremony, I had the honor of recognizing each of these individuals on the Senate Floor. You can watch my floor remarks in the above video, and you can watch the full Wreaths Across America ceremony, organized by former Marine, Senator Devlin Robinson, here.
Regan Engages Nominees during Senate Confirmation Hearing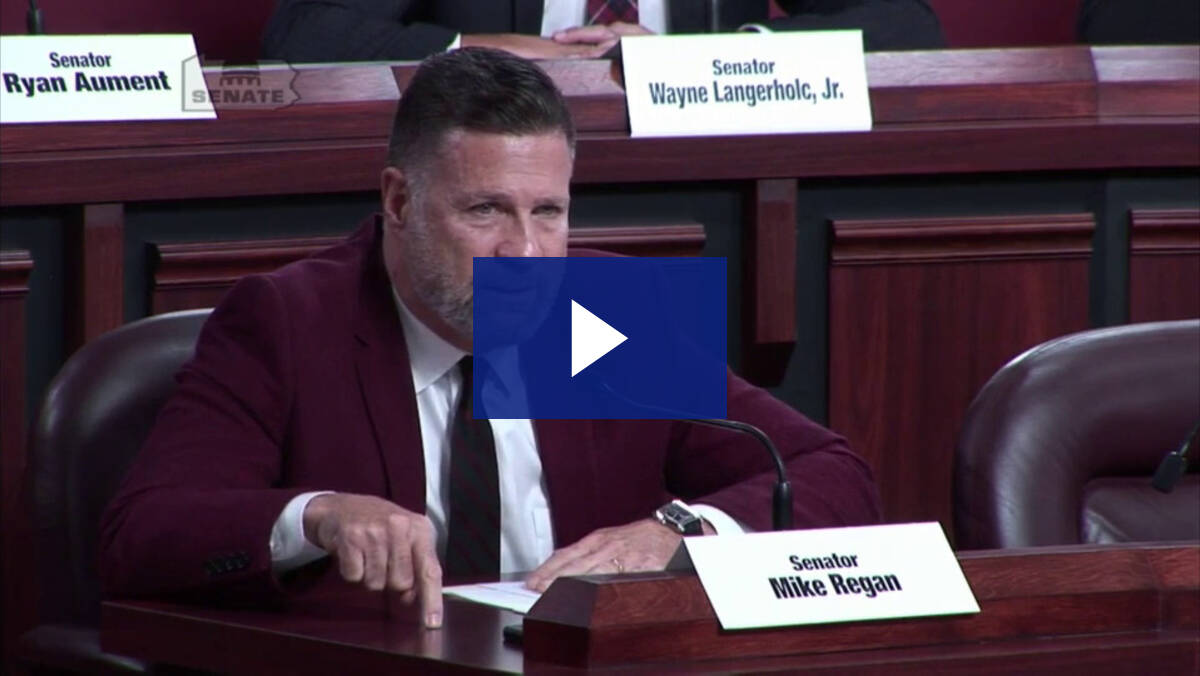 The Senate Judiciary Committee, which I am a member of, held a confirmation hearing on Tuesday for the consideration of two nominees.
Marsha Grayson was nominated for reappointment to the Board of Pardons, and Marie Veon, former Venango County District Attorney, was appointed to fill a vacancy on the Venango County Court of Common Pleas.
My perspective as a former US Marshal often comes into play when nominees for such positions are before the committee and that is reflected in my comments during Tuesday's hearing.
You can watch the remarks I directed to Marie Veon above and Marsha Grayson here. Or click here to watch the entire committee hearing.
The full Senate gave final confirmation to both nominees on Wednesday.
Ready-to-Drink Cocktail Language Amended into Regan License Auction Bill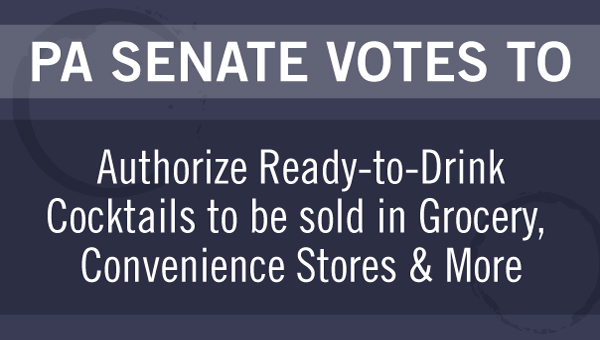 On Wednesday, the Senate gave final consideration to legislation I am the sponsor of to establish a yearly excess auction for liquor licenses that did not receive bids during the Liquor Control Board's regular license auctions.
Under Senate Bill 566, all available licenses in an excess auction would be up for bid by any entity in any county of Pennsylvania. However, no more than one license would be awarded within a county per year. The bill also allows for full payment to be made within six months of a winning bid, rather than the current two weeks, which prevents smaller entities from competing with bigger, wealthier businesses that have easy access to large amounts of capital.
Prior to final passage, I offered an amendment to SB 566 that authorizes licensees, including restaurants, bars, hotels, grocery stores, convenience stores, and beer distributors to sell Ready-to-Drink cocktails (RTDs), which are spirit-based beverages manufactured and sold in sealed containers, such as cans or bottles.
Many of you may be familiar with the malt-based versions of RTDs, which are already available at licensed retailers. Spirit-based RTDs are only available in state liquor stores, and the selection is extremely limited.
The legislation caps the total maximum alcohol by volume content at 12.5%, similar to many beer products. Anything above that would have to still be sold through the state stores.
SB 566 as amended is now before the House of Representatives for final approval.
Senate Approves Measures for Parental Choice and Oversight in Education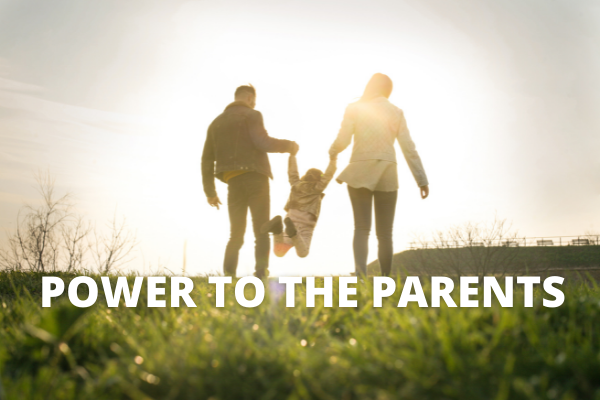 The Senate voted on several measures this week aimed at empowering parents of school children.
Senate Bill 937 would prohibit a child from being required to be immunized for COVID-19 as a condition of attendance in any public or private K-12 school and therefore, allows parents to choose if their child will receive the vaccine or not. The bill now heads to the House of Representatives for consideration.
A package of bills related to Pennsylvania's Educational Improvement Tax Credit (EITC) and Opportunity Scholarship Tax Credit (OSTC) school choice programs were also given final consideration.
Senate Bill 931 excludes pandemic stimulus payments from a household's income when determining eligibility for EITC and OSTC programs. This important legislation ensures children will not see their educational opportunities diminished because of one-time government handouts.
Senate Bill 932 revises the definition of "school-related fees" so students can use EITC and OSTC scholarships toward dual enrollment programs. This option gives students the flexibility to pursue college courses or career training while still in high school, minimizing future student loan debt.
House Bill 1642 loosens the threshold for schools to be considered "economically disadvantaged," which would allow more students in economically disadvantages schools to access tax credit scholarships.
Senate Bills 931 and 932 now head to the House for further consideration, while House Bill 1642 was sent to the governor for enactment.
Finally, House Bill 1332 would require K-12 schools to post curricula online in a standardized, user-friendly manner. Under the bill, beginning with the 2022-23 school year, school districts must post on their websites an internet link or title for:
Every textbook used by the schools.
A course syllabus or a written summary of each instructional course.
The state academic standards for each instructional course offered.
To prevent placing another burden on teachers, the bill stipulates that a school administrator or designee would be required to post the curricula online. House Bill 1332 was amended in the Senate and will return to the House of Representatives for further consideration.
Comprehensive Probation Reform Approved by Senate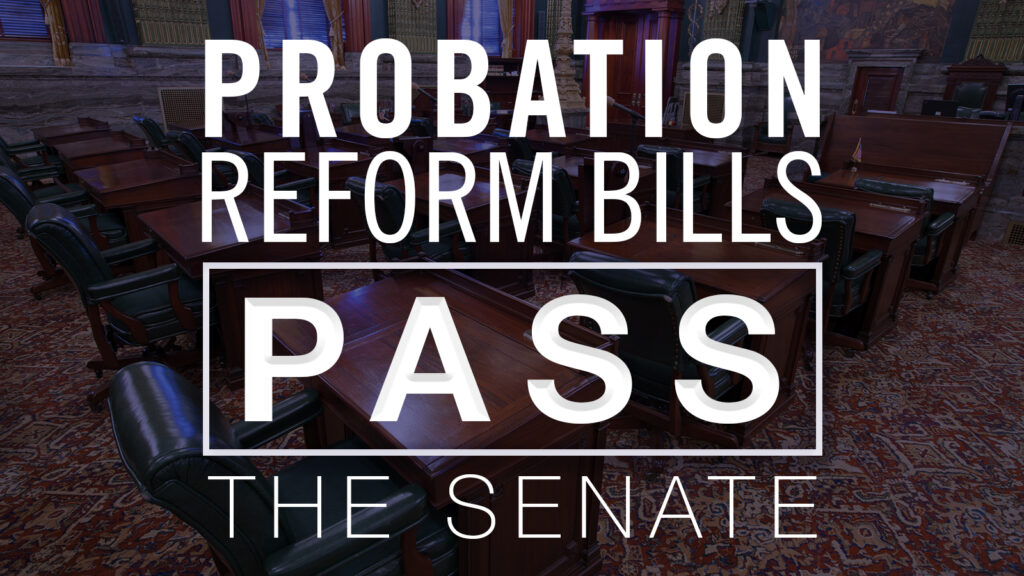 The Senate approved probation reform measures aimed at reducing the amount of taxpayer dollars spent on the system while better integrating probationers into society. The bills will be sent to the House of Representatives for consideration.
Senate Bill 913 provides an opportunity for early release from probation and ensures fewer individuals return to prison by offering incentives that reward positive behavior and participation in education, employment, vocational and drug treatment programming shown to reduce recidivism.
Among other goals, the measure is intended to prevent cases in which technical violations, such as a minor traffic offense, can perpetually extend the clock on an offender's term and result in re-confinement.
The Senate also approved Senate Bill 904, to allow probation meetings to be held remotely, and Senate Bill 905, to improve the scheduling of probation and parole meetings.
Deadline Approaching for Property Tax/Rent Rebate Applications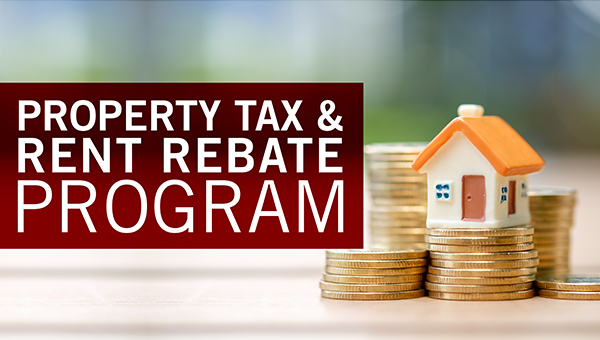 The deadline for older and disabled Pennsylvanians to apply for rebates on rent and property taxes paid in 2020 is Dec. 31, 2021.
The rebate program benefits eligible Pennsylvanians age 65 and older, widows and widowers age 50 and older, and people with disabilities age 18 and older. The income limit is $35,000 a year for homeowners and $15,000 annually for renters, and half of Social Security income is excluded.
Claimants of the Property Tax/Rent Rebate Program are encouraged to file their rebate applications online by visiting mypath.pa.gov. You can check the Property Tax/Rent Rebate Program instruction booklet to learn which information you will need to input/upload to complete the process.