Week of June 21, 2021
In This Edition:
31st District Residents Receive Senate Confirmation for State Board Appointments
Senate Passes Voter ID Constitutional Amendment
Medical Marijuana Bill Garners Senate Passage
Bill to Ban Vaccine Passports Heads to Governor
Election Reform Bill Achieves Final Passage
Committee Roundup
2021-22 State Budget Update Forthcoming
---
31st District Residents Receive Senate Confirmation for State Board Appointments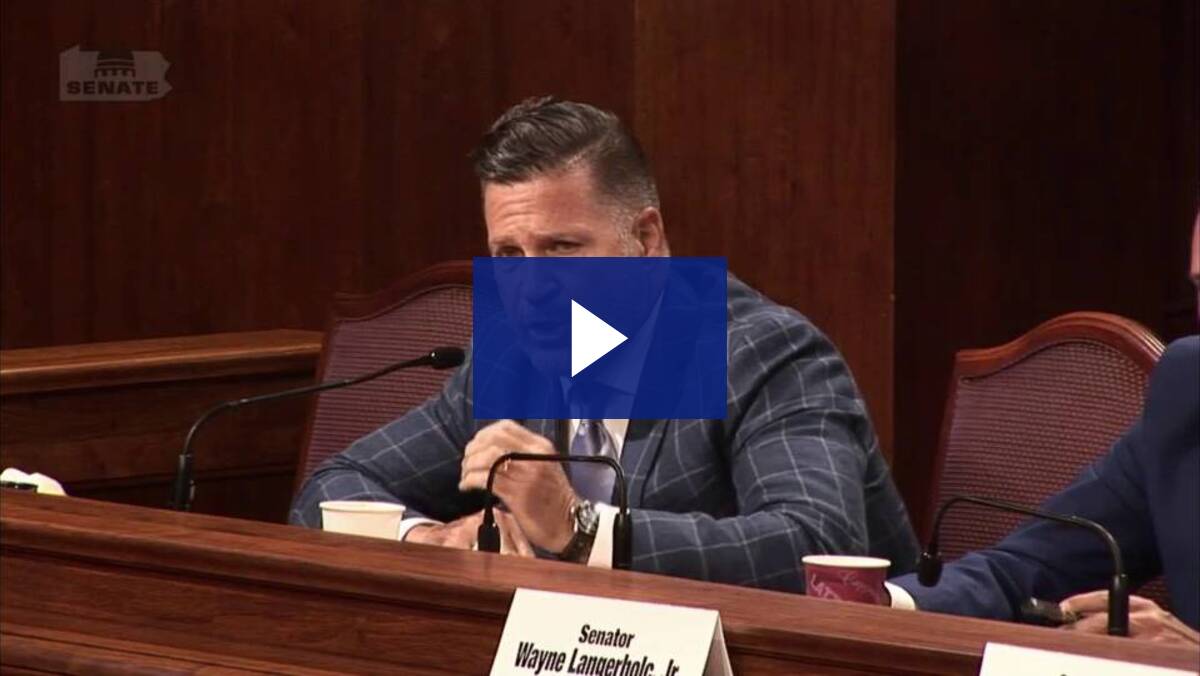 This week, the Senate confirmed three constituents from the 31st District, who were nominated by the Governor to serve on state boards.
On Wednesday, I was honored to introduce Jim Biery at his nomination hearing before the Senate Banking and Insurance Committee for reappointment to the Pennsylvania Banking and Securities Commission. Jim, who has served on the Commission since 2014, brings a great deal of knowledge and experience to his role after having a 37-year career with the Pennsylvania Bankers Association, 16 of which were spent as the President, CEO & Treasurer.
Then on Thursday, Marcus Brown was before the Senate Judiciary Committee, which I serve on, for nomination to the Pennsylvania Parole Board. Watch the above video to learn about a constituent concern I raised regarding how the Parole Board reviews cases involving child abuse offenders. You can also watch my introductory remarks of Marcus here.
Both Jim and Marcus garnered full Senate support on Friday, along with Jim Waggoner, who was appointed to the State Board of Certified Real Estate Appraisers.
Senate Passes Voter ID Constitutional Amendment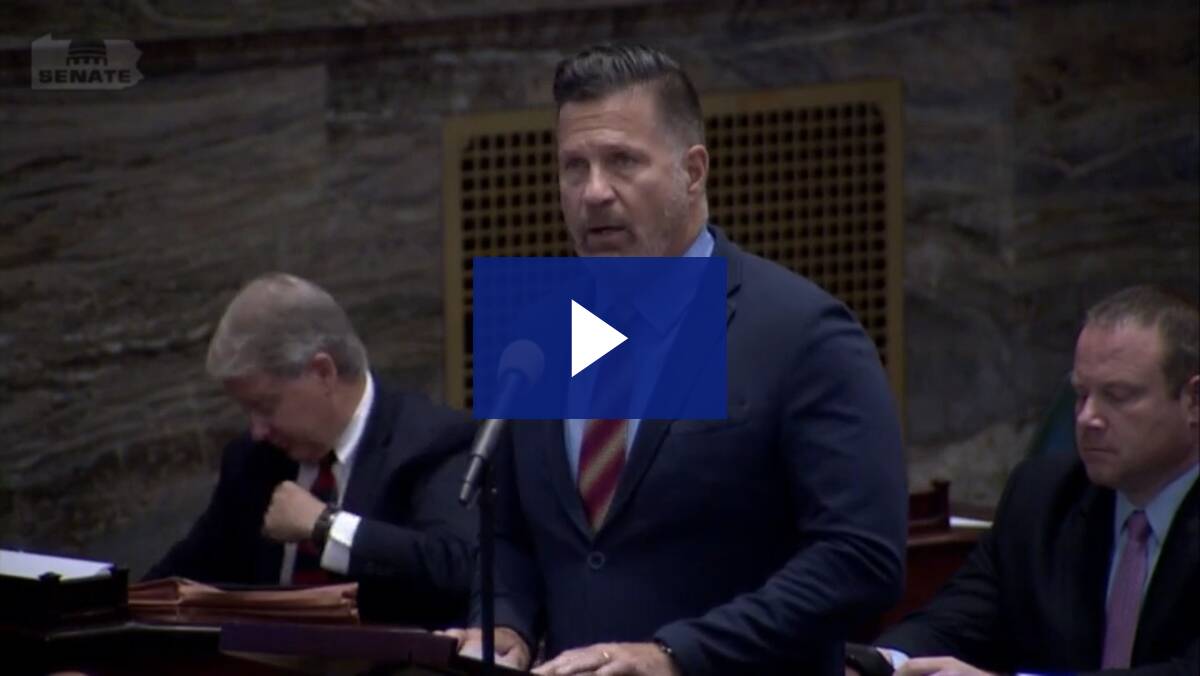 On Wednesday, the Senate passed legislation that proposes a constitutional amendment to require photo identification each time a voter casts a ballot.
As you know, I had the opportunity to serve as a member of the Special Committee on Election Integrity and Reform, a position that led me to hear from people from all over Pennsylvania who want confidence in our election system, and Voter ID is one way to start building that confidence.
Senate Bill 735, as a constitutional amendment, allows voters to decide whether identification should be required every time a person casts a vote. The bill now goes to the House for consideration, but remember that constitutional amendments must pass both chambers in two consecutive legislative sessions.
Click here to read more.
Medical Marijuana Bill Garners Senate Passage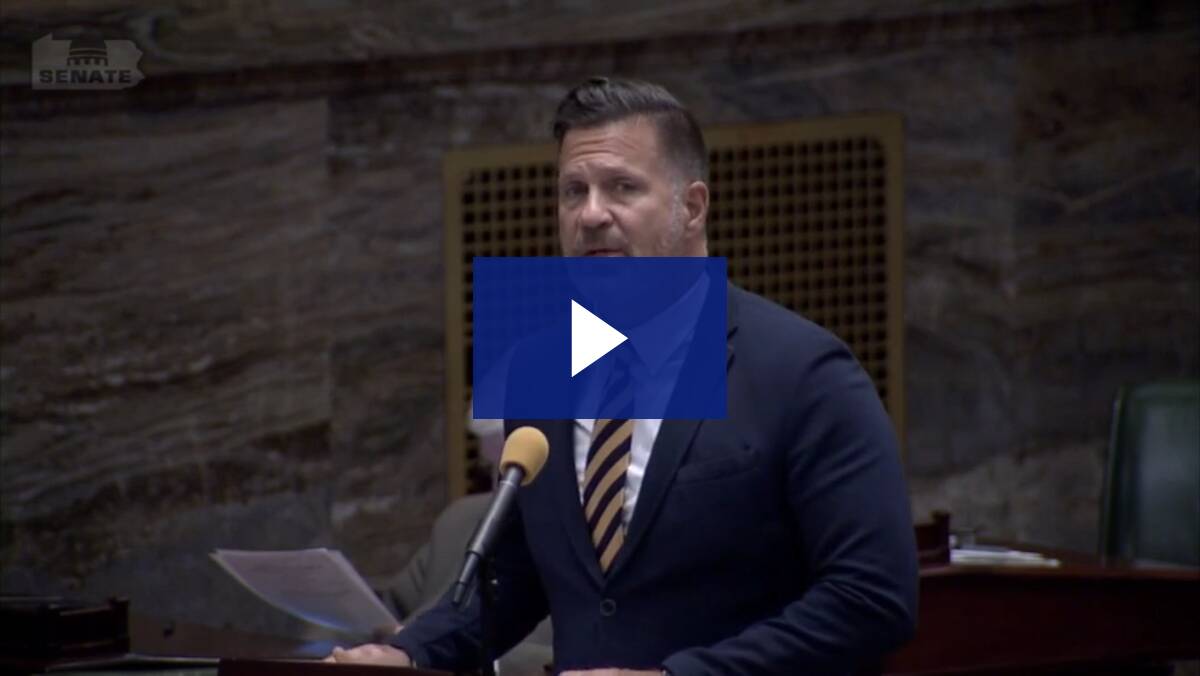 On Friday, House Bill 1024, which amends the Medical Marijuana Act of 2016, received final passage in the Senate.
Recall, this legislation advanced last week out of the Senate Law and Justice Committee, which I chair. The bill provides for the permanent implementation of many valuable allowances granted during the COVID-19 pandemic, while also making updates to a young but successful medical marijuana program.
Some of the key provisions of the bill allow for the continuation of curbside dispensing, remote communication with a dispensary's physician or pharmacist, and the dispensing of a 90-day supply of medicine, rather than the current 30-day supply, as well as advancements for grower/processors and clinical registrants.
Medical marijuana is an issue I have championed from the beginning – since my time as a member of the House of Representatives. And in my role as Committee Chairman, I was proud to work on amendments to HB 1024, which ultimately, aims to continue to help the half million Pennsylvanians enrolled in Pennsylvania's medical marijuana program.
Bill to Ban Vaccine Passports Heads to Governor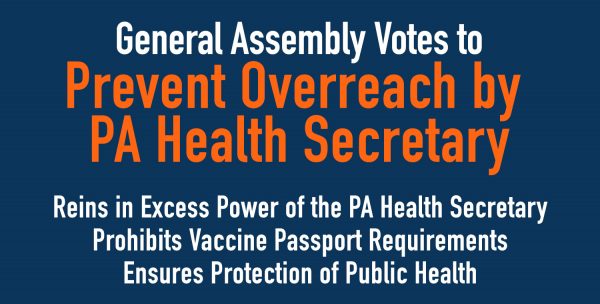 On Thursday, the Senate gave final approval to legislation that prohibits vaccine passport requirements and prevents the excess use of power by the state Secretary of Health while ensuring the protection of public health.
Senate Bill 618 prohibits government entities including the state, counties, municipalities, and school districts, from requiring proof of vaccination. An amendment I offered prior to the bill being sent to the House, added colleges and universities that are subsidized by state taxpayers.
The bill also prohibits the Secretary of Health from mandating masks, stay-at-home orders or social distancing for individuals that have not been exposed to a virus. It also prevents the Secretary from forcing business closures.
Now the legislation goes to the Governor, and he will have 10 days to sign the bill into law, veto it or allow the bill to become law without his signature.
Election Reform Bill Achieves Final Passage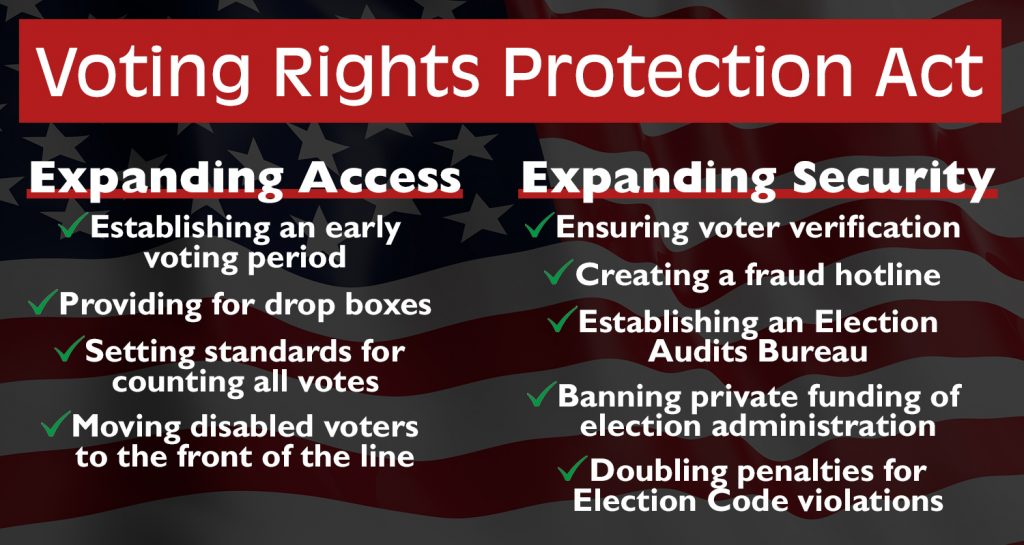 On Friday, the Senate sent a comprehensive election reform bill, known as the Voting Rights Protection Act, to the Governor.
House Bill 1300 contains numerous provisions designed to transform our election system and restore the public's faith and confidence in it. The reforms are based on principles of improving voter access, boosting election security, and assisting counties.
While it is a comprehensive bill, some of the key highlights include:
Early voting beginning in 2025
Proper security of drop boxes, which will be geographically distributed across each county
A requirement for Voter ID and the issuance of new voter registration cards that include a signature and scannable identification
The creation of a voter fraud hotline
A ban on private donations to counties for the administration of elections
The establishment of a Bureau of Election Audits under the Auditor General
Audits by the new bureau including ballot comparisons and performance audits every five years
Requiring counties to compare death records with their voter registration list on a monthly basis
Changing voter registration and mail-in ballot deadlines and providing counties with additional time to count mail-in votes.
Committee Roundup
This week, three committees that I serve on – Local Government, Judiciary, and Rules – convened meetings for the consideration of several bills, as well as nominations.
Click each committee's link for details. Judiciary and Rules met multiple times this week, and you will find video and agendas for each of the meetings on the respective committee pages.
2021-22 State Budget Update Forthcoming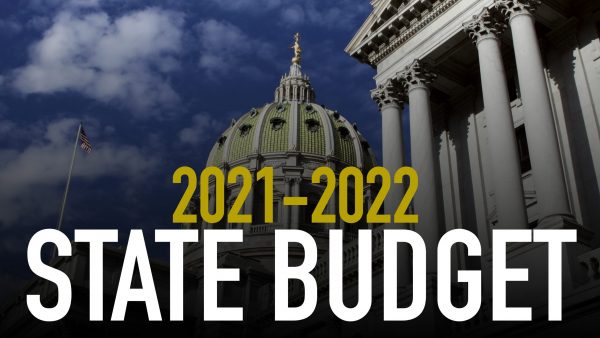 The Senate and House worked this week to finalize a state budget for the 2021-22 Fiscal Year, which is constitutionally required by June 30th.
Considering the number of additional legislative issues that we passed this week, I will plan to send a separate email update on the budget next week.