Week of June 17, 2019
In this Edition:
Regan School Safety Legislation Advances in House
VAEP Committee Approves Disabled Veterans Property Tax Legislation
Constituents in the Capitol
Senate Approves Bills to Combat Opioid Crisis
Victims' Rights Bills Receive Final Legislative Approval
Other Bills Sent to Governor for Enactment into Law
Committee Round-Up
Next Week
Regan School Safety Legislation Advances in House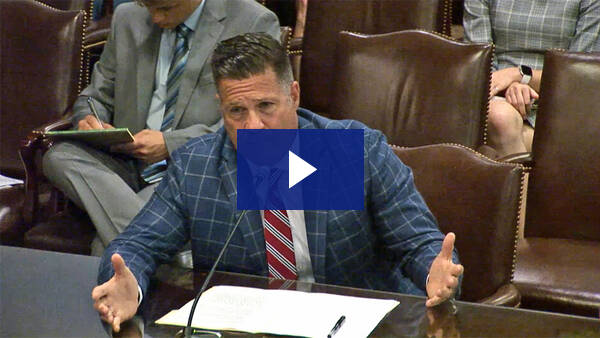 On Tuesday, the House Education Committee convened to consider Senate Bill 621, my School Safety legislation that has been moving swiftly through the legislative process as we work to get the bill passed so schools can make security personnel decisions for the upcoming school year.
I had the opportunity to speak on the bill and answer questions from committee members, after which the committee approved the bill with one amendment.
On Thursday, the bill was referred to the House Appropriations Committee, which is expected to consider the bill early next week.
VAEP Committee Approves Disabled Veterans Property Tax Legislation
On Tuesday, the Senate Veterans Affairs & Emergency Preparedness Committee, which I chair, reported four pieces of legislation, including a proposed Constitutional amendment to address property taxes for disabled veterans.
Senate Bill 92, sponsored by Senators Camera Bartolotta (R-Washington) and Elder Vogel (R-Beaver) would amend the Pennsylvania Constitution to provide disabled veterans with a VA disability rating of 50 percent or higher a reduction in their property taxes equal to their disability rating. Currently, only a disabled veteran that is 100% disabled can qualify for a 100% property tax exemption. The legislation would also eliminate the requirement that the disability have occurred during war-time service.
The committee also approved the following three measures:
Senate Bill 447, sponsored by Senator Andy Dinniman (D-Chester) would allow Volunteer Fire Companies to utilize state Fire Relief Funds for Length of Service Award Programs (LOSAP). Similar to a pension program, LOSAP is intended to assist fire companies in retaining and rewarding volunteers. The typical plan design offers financial rewards to volunteers based upon the longevity of their service to the community.
Senate Resolution 169, sponsored by Senator Pat Browne (R-Lehigh) would designate Pennsylvania as a Purple Heart State and designate August 7th as Purple Heart Day in Pennsylvania. Designating a state as a "Purple Heart" State is an awareness campaign by the Military Order of the Purple Heart to recognize and honor the sacrifices made by those who have been wounded in combat and in turn, have been awarded the Purple Heart. To date, 23 states have designated themselves as a "Purple Heart State." Purple Heart Trails have been designated in all 50 states, including Route 45 spanning from Water Street, a village in Huntingdon County, to Lewisburg in Union County – known as the "Purple Heart Highway".
House Bill 1324, sponsored by Representatives Steve Barrar (R-Delaware) and Chris Sainato (D-Lawrence), would establish the "Pennsylvania GI Bill for Families." This legislation mirrors Senate Bill 589 that I introduced and which passed the House Veterans Affairs and Emergency Preparedness Committee on Wednesday. The GI Bill for Families would provide a spouse and/or a child of a National Guard Member a free five-year higher education if the Guard member re-enlists for six years.
These bills and resolution now go before the full Senate for further consideration.
Constituents in the Capitol
This week I had the pleasure of welcoming several constituents of the 31st District to the Capitol.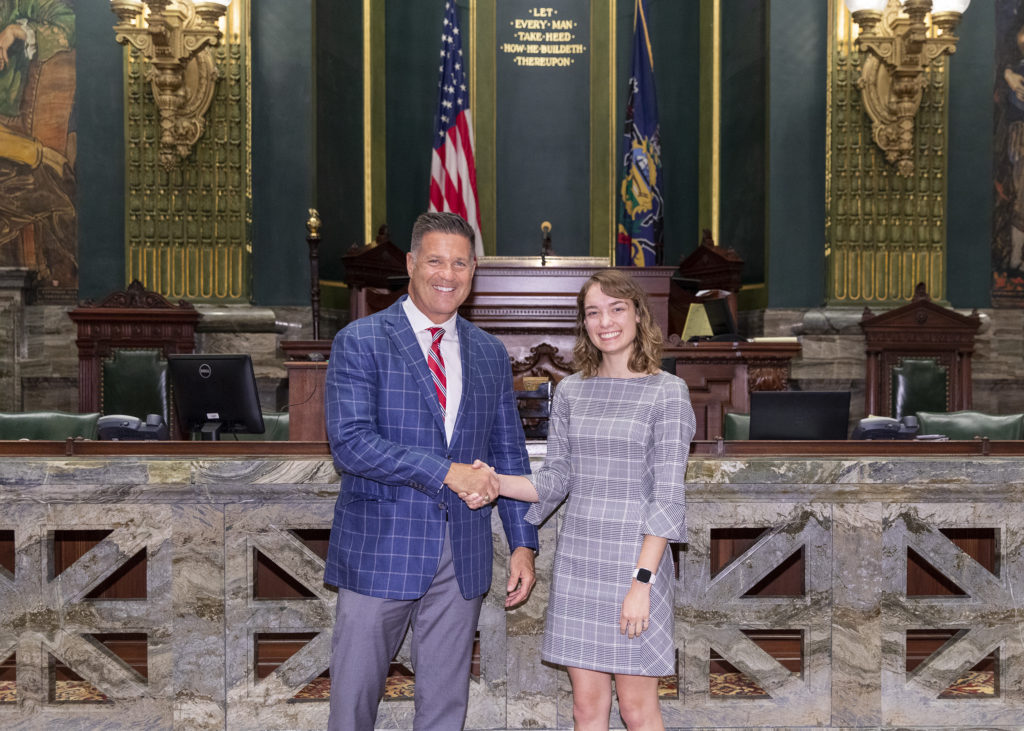 On Tuesday, Olivia Keyser from Dillsburg, who is interning in my Camp Hill office, spent the day working in my Harrisburg office to experience a Senate session day. Click here to watch my introduction of Olivia on the Senate floor.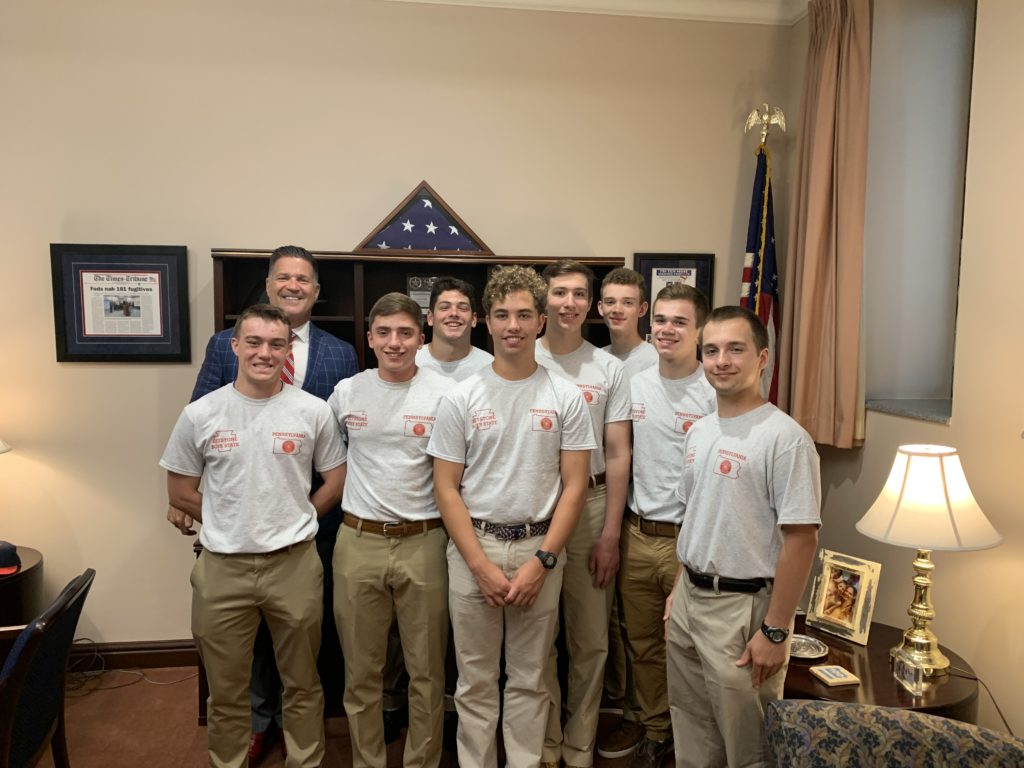 Also on Tuesday, I met with several young men participating in the Keystone State Boys program sponsored by the American Legion, which provides a week-long educational program for boys focusing on leadership and pride in American citizenship as well as Pennsylvania State Government.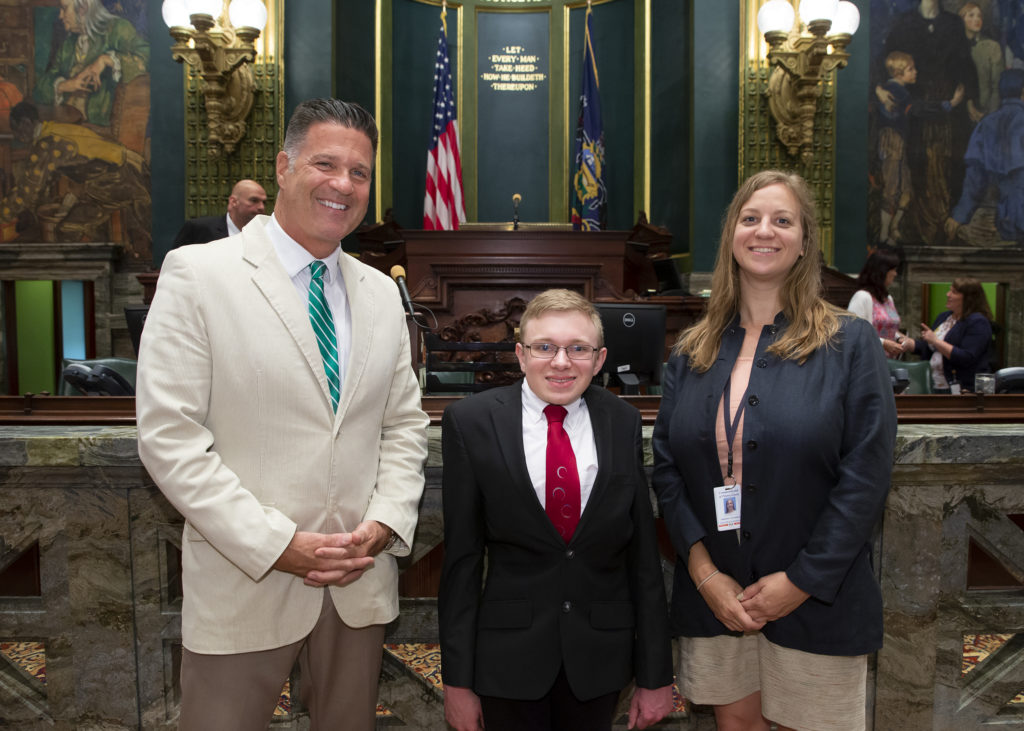 On Wednesday, I had the pleasure of introducing Jacob Bender on the Senate floor. Jacob is a summer intern in the Policy Office at the Pennsylvania Fish and Boat Commission as part of the Office of Vocational Rehabilitation Internship Program. Click here to watch my introduction of Jacob on the Senate Floor.
Senate Approves Bills to Combat Opioid Crisis
The Senate approved a package of bills this week to combat the state's heroin and opioid epidemic by improving prescription drug monitoring, limiting opioid prescriptions, targeting drug dealers and taking other steps to limit the damage inflicted by the addiction crisis in Pennsylvania communities.
The package of bills is a continuation of bipartisan efforts led by Senate Republicans over the past six years to combat the opioid epidemic. Beginning in 2014, lawmakers joined the Center for Rural Pennsylvania for a series of hearings to study the problem and identify solutions. As a result of these hearings, new laws were created to limit prescriptions, improve and expand addiction treatment, and improve public education about the dangers of drug abuse.
Click here for details about the package of bills passed this week by the Senate and sent to the House for consideration.
Victims' Rights Bills Receive Final Legislative Approval
A package of bills protecting the rights of crime victims and providing stronger protections for victims of violent offenses received final legislative approval this week.
The Senate unanimously approved House Bill 276, which amends the state Constitution to create a crime victims' "Bill of Rights," on Wednesday. Constitutional amendments require Senate and House approval during two consecutive legislative sessions before going to voters. Since the measure was approved during the 2017-18 Legislative Session as Senate Bill 1011 the referendum will now appear on ballots across the state this fall.
The measure would ensure crime victims have a constitutional right to notices of hearings and other proceedings, protection from the accused, notice of release or escape, full and timely restitution and other protections to help balance the rights of victims with the rights of criminals.
The Senate approved four additional crime victim bills on Wednesday and sent them to the Governor's desk for enactment into law. Click here to learn more.
Other Bills Sent to Governor for Enactment into Law
Additional bills received final legislative approval this week and were sent to the Governor for enactment into law including:
Senate Bill 338 increases the allowable width for farm equipment on roads.
House Bill 384 increases the fine for driving a vehicle without the proper endorsement for that particular type of vehicle.
House Bill 619 establishes June 19 as "Juneteenth National Freedom Day."
Committee Roundup
A recap of the committees I serve on.
Consumer Protection & Professional Licensure
The Senate Consumer Protection & Professional Licensure Committee approved four bills on Wednesday.
Senate Bill 67 calls for the adoption of the Psychology Inter-jurisdictional Compact to allow for tele-psychological practice across state lines and temporary in-person services.
Senate Bill 258 provides for pipeline facility information to be given to county emergency management directors.
Senate Bill 284 requires pipeline operators to provide current emergency response plans to the Public Utility Commission.
Senate Bill 586 addresses licensing requirements for cosmetologists.
Law & Justice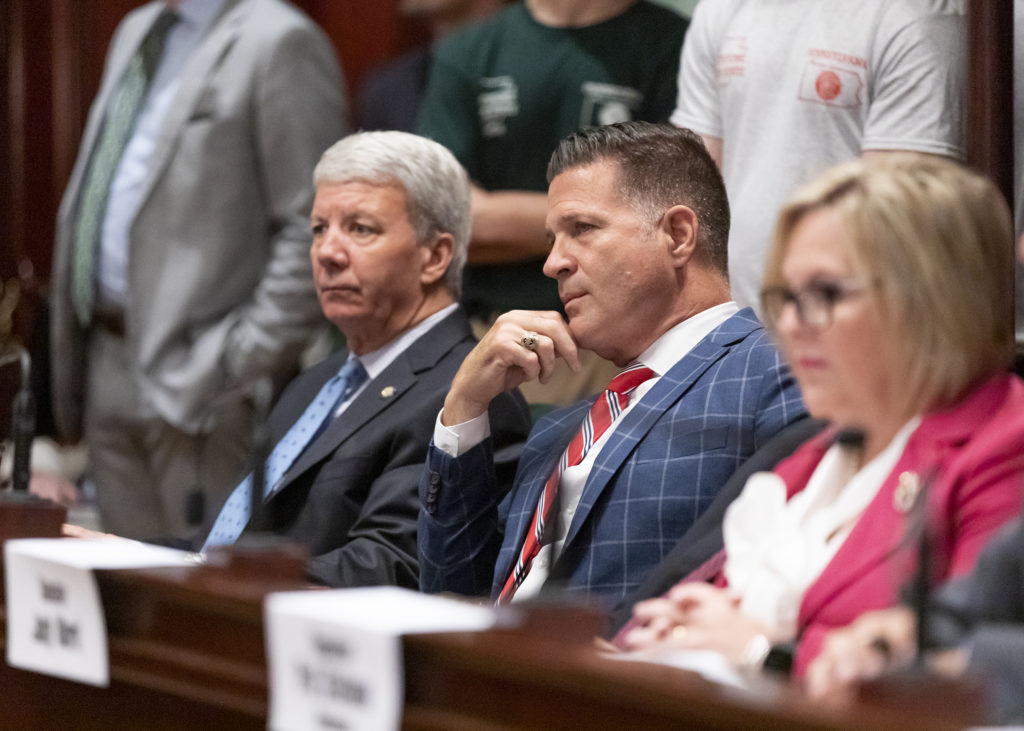 The Senate Law & Justice Committee considered the nomination of Mary Isenhour to the Pennsylvania Liquor Control Board and approved five bills on Tuesday.
Senate Bill 61 amends the list of organizations eligible to receive a wine and spirits auction permit.
House Bill 131 amends the Liquor Code to further define "alcoholic cider" and "fermented fruit beverage."
House Bill 423 provides additional referendum questions for voters in dry municipalities considering the addition of breweries or limited distilleries.
House Bill 947 sets the hours of operation for breweries, distilleries and limited distilleries.
House Bill 1524 allows the transfer of some liquor licenses to designated tourist development projects.
Local Government
The Senate Local Government Committee approved eight bills on Tuesday.
Senate Bill 493 defines "normal regular repairs" that a property owner may make without triggering a tax reassessment.
Senate Bill 494 authorizes political subdivisions and authorities to enter into contracts for services when two consecutive advertisements fail to induce bids.
Senate Bill 495 sets a process for reducing membership of a borough council.
Senate Bill 688 amends Title 8 (Boroughs and Incorporated Towns) addressing powers and duties of elected officials, the organization of council, quorums, participation by telecommunication devices, voting, compensation and eligibility; and salaries for mayors.
Senate Bill 689 amends the Second Class Township Code standardizing the maximum salaries of supervisors, and adjusting the annual maximum salary limits according to changes in the Consumer Price Index.
Senate Bill 690 increases the public bidding threshold from $1,500 to $6,000 for Incorporated Towns.
Senate Bill 691 increases the public bidding threshold from $1,500 to $6,000 for Second Class Townships.
Senate Bill 692 increases the public bidding threshold from $1,500 to $6,000 for Boroughs and Third Class Cities.
Next Week
The Senate reconvenes at 1pm on Monday, and we will convene every day next week until passage of the 2019-2020 state budget, which is constitutionally required to be done by June 30th. You can watch live on my website at www.SenatorMikeReganPA.com.