Week of June 7, 2021
In this Update:
Legislature Votes to End Emergency Declaration
Senate Passes Vaccine Passport Prevention Legislation
Education Reform Bill Advances Out of Committee
Senate Marks June 2021 as Cancer Survivors Month in PA
Committee Roundup
Next Week
---
Legislature Votes to End Emergency Declaration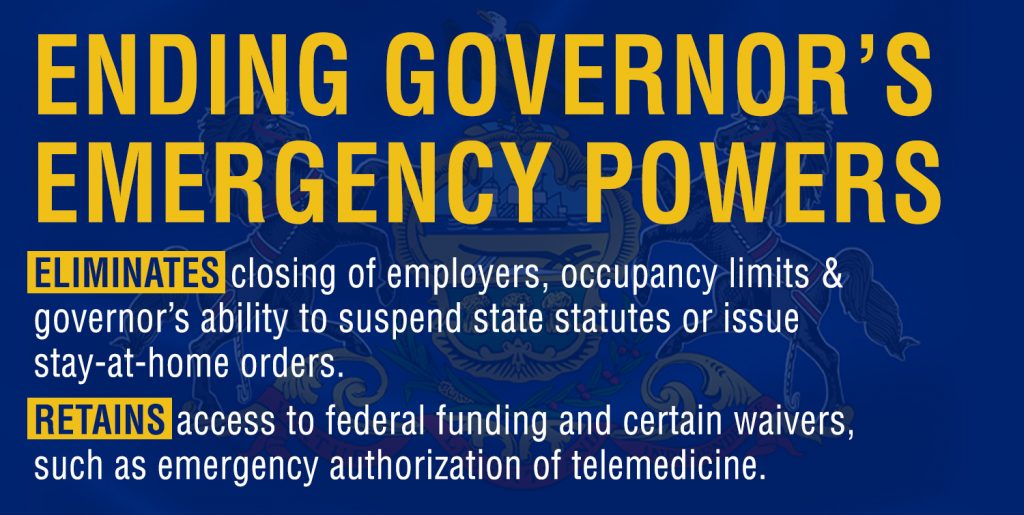 On Thursday, both the Senate and the House voted to end Governor Wolf's emergency declaration through the passage of a concurrent resolution, which does not need to go to the Governor for enactment.
House Resolution 106 terminated the pandemic emergency declaration and ends the governor's power to close employers, limit occupancy, suspend state statutes, or issue stay-at-home orders due to COVID-19.
The Senate and the House also approved House Bill 854, which will ensure all waivers that were previously effective under the COVID-19 emergency will remain in effect until Sept. 30, 2021, unless sooner terminated by the authority which initially authorized the waiver. This protects access to critical federal funding and waivers that benefit health and safety, such as the emergency authorization of telemedicine, temporary staffing at nursing homes and personal care homes, and other staffing issues in health care facilities.
Upon passage, House Bill 854 was sent to the Governor for his signature and was signed into law as Act 21 of 2021.
Voters approved two constitutional amendments in May that limited the length of disaster declarations and gave the General Assembly the authority to extend a governor's initial disaster declaration. The Senate action reflects the will of the people and is a necessary step to help the Commonwealth transition out of crisis.
Senate Passes Vaccine Passport Prevention Legislation
Limits Secretary of Health from imposing restrictions on Pennsylvanians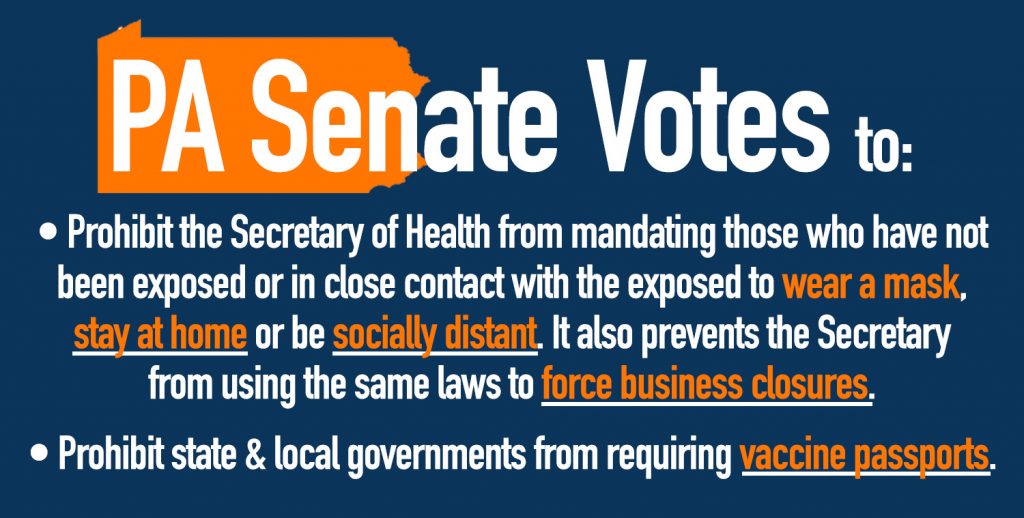 The Senate passed legislation to prohibit a government entity, which includes public schools, from requiring proof of vaccination against COVID-19. Prior to the final vote, I amended the bill to include institutions of higher education that receive state funding through the annual appropriations process.
Senate Bill 618 amends Title 35 (Health and Safety) of the Pennsylvania Consolidated Statutes and prevents the above-mentioned entities from requiring proof of vaccination for use of any service, entering a building, or undertaking any activity within its territorial limits or jurisdiction. Further, an amendment made by Senator Judy Ward prohibits the Secretary of Health from unilaterally using laws such as the Disease Prevention and Control Act to limit Pennsylvanians through actions such as a mask mandate, stay-at-home orders, or requiring social distancing.
The bill was referred to the House Health Committee on Thursday.
Education Reform Bill Advances Out of Committee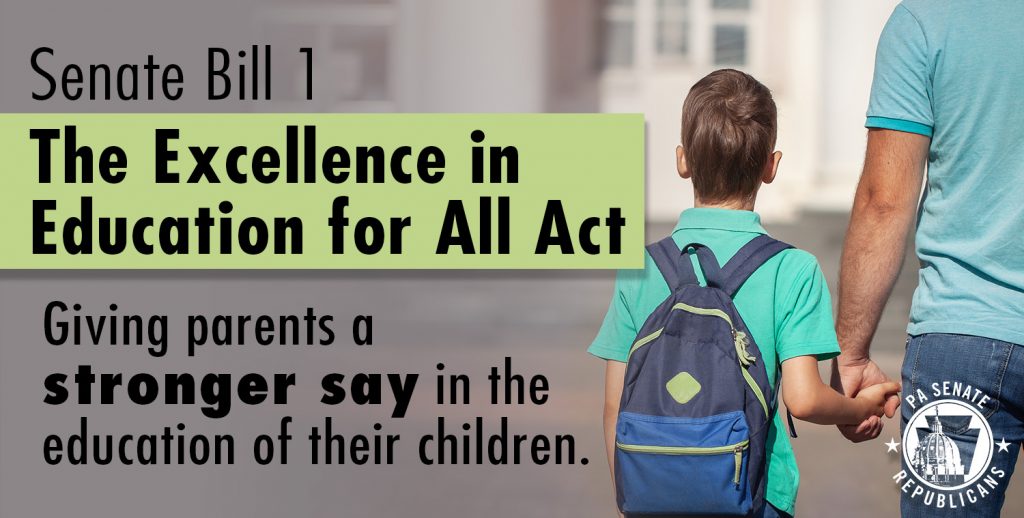 On Monday, the Senate Education Committee advanced a significant education reform proposal that aims to ensure students and parents have access to high-quality schools and every child has an opportunity to succeed – without the billions in new spending and taxes advocated by Governor Wolf.
Senate Bill 1, which I am a co-sponsor of, will expand funding for Pennsylvania's highly successful Educational Improvement Tax Credit and Opportunity Scholarship Tax Credit programs. One specific measure establishes an auto escalator, which would increase available tax credits by 25% when at least 90% of the tax credits have been used in the previous fiscal year. I am the prime sponsor of standalone legislation, Senate Bill 527, that calls for the same.
These programs are key for the nearly 60,000 students that received scholarships and the 43,000 applicants that were denied due to a lack of funding. These are students seeking to better their education outside of their home school district that is not serving their needs.
SB 1 also proposes charter school reforms including additional accountability and transparency provisions and allowing charter students to participate in dual enrollment programs, in which they attend college courses while still enrolled in high school.
The Committee also considered two other bills on Monday. Senate Bill 324 provides for assisting students experiencing education instability and Senate Bill 733 establishes the Education Opportunity Account Scholarship Program for Exceptional Students.
To learn more and to watch video from the committee meeting click here.
Senate Marks June 2021 as Cancer Survivors Month in PA
The Senate approved a resolution this week sponsored by Senate President Pro Tempore Jake Corman, and which I co-sponsored, honoring cancer survivors by designating June 2021 as Cancer Survivors Recognition Month.
Senate Resolution 131 not only recognizes the difficulty of living through cancer but also life after cancer. The measure was originally championed by the late Senator Dave Arnold (R-Lebanon), who passed away in January, at the age of 49, following a battle with brain cancer.
We all have likely been impacted by cancer in one way or another – a family member, a close friend, a colleague, or even oneself. It is not an easy path to walk. To those who have experienced its impacts firsthand and to those survivors, I extend my deepest admiration and wishes for continued good health.
Committee Roundup
A summary of activity by committees I serve on
The Senate Consumer Protection & Professional Licensure Committee unanimously two bills to help physician assistants work and practice with increased efficiency in Pennsylvania.
Senate Bill 397 amends the Osteopathic Medical Practice Act and Senate Bill 398 amends the Medical Practice Act of 1985 to modernize and advance the practice of physician assistants. The bills now go to the full Senate for consideration.
Video of the committee meeting.
Next Week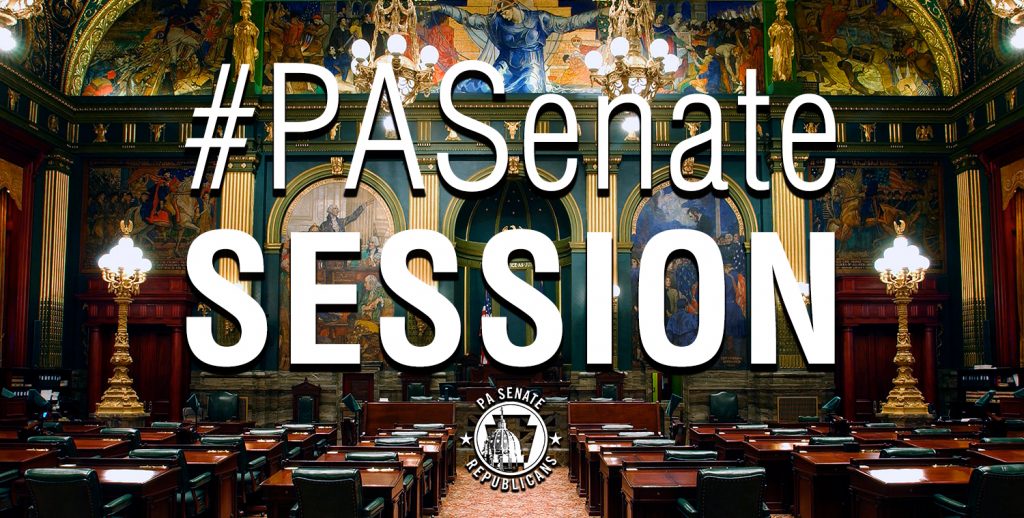 The Senate returns to session on Monday, June 14th at 1pm and will be livestreamed here.
A number of committees that I serve on will convene meetings throughout the week and will also be livestreamed. Click here for the full schedule and links for viewing.