In This Update:
CARES Act Package Supports Education at All Levels
Preliminary Guidelines Set for Students to Return to School
Reminder: Be Vigilant of Fraudulent Unemployment Checks and Payments
Guidance Available for Parents With Children Returning to Child Care
New Scam Targets WIC Recipients
2020 Census is Happening Now
---
CARES Act Package Supports Education at All Levels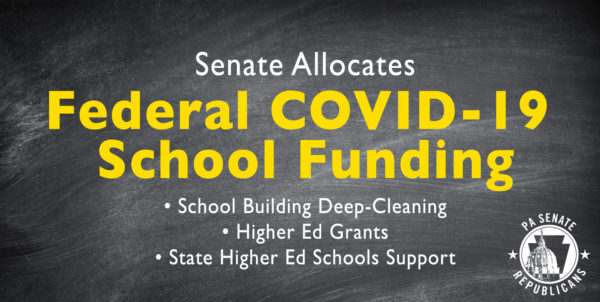 As part of a package of bills approved by the Senate and signed into law last week, additional funding from the federal Coronavirus Aid, Relief, and Economic Security (CARES) Act will support all levels of education from early childhood through college.
A total of $214 million in School Health and Safety Grants will help both public and nonpublic schools reopen safely in the fall. This is an all-time record level of school safety funds, and these grants will support training, equipment purchases, and services to minimize the risk of infection. Some of the eligible uses for the grants include health monitoring equipment, sanitation, personal protective equipment, and educational technology for distance learning, with $7.5 million dedicated to Community Violence Grants.
The Pennsylvania Higher Education Assistance Agency will receive more than $42 million, including $30 million for state grants. An additional $30 million will support the Pennsylvania State System of Higher Education with costs incurred during the COVID-19 pandemic.
The Pennsylvania Department of Education will also receive an additional $7 million for Pre-K Counts and $2 million for Head Start. More information on passage of the CARES Act funding and the interim state budget that funds education for the entire 2020-21 school year is available here.
Preliminary Guidelines Set for Students to Return to School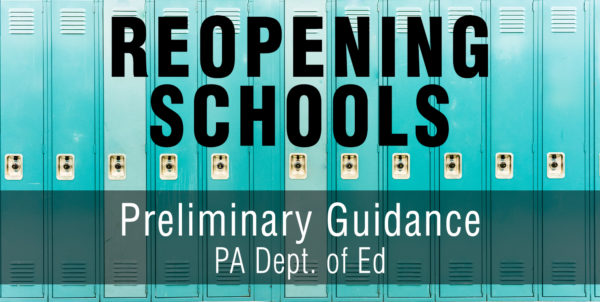 The Pennsylvania Department of Education announced new guidelines this week for elementary, secondary and post-secondary schools to reopen in the near future. K-12 schools can begin reopening as early as July, and colleges, trade schools and other post-secondary schools can begin offering classes again as soon as Friday (June 5).
Schools will be required to develop health and safety plans that reflect the unique needs of local districts, including steps to protect students and staff at higher risk of severe illness, training for staff and faculty, monitoring students and staff for symptoms, developing policies and hygiene practices to protect against infection, and ensuring proper distancing of desks and seating.
The U.S. Centers for Disease Control has also offered interim guidance for schools and child care to open safely.
Reminder: Be Vigilant of Fraudulent Unemployment Checks and Payments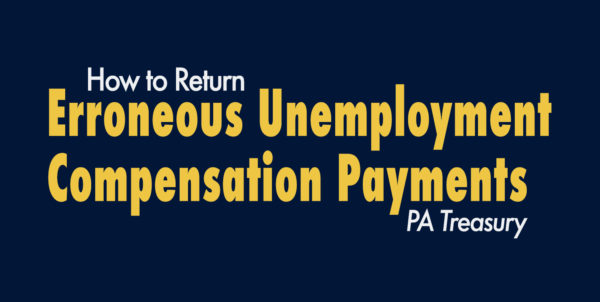 The Department of Labor and Industry recently uncovered thousands of cases of fraud in which scammers were filing for unemployment benefits under another person's name and having payments deposited into their own accounts.
State residents who receive an erroneous or fraudulent check should immediately write "void" on the front of the check and email a photo of the complete front and back of the check to officeofinvestigations@patreasury.gov. The paper check should be returned to the Pennsylvania Treasury at the address below, or destroyed if the recipient is unable to mail it back:
Pennsylvania Treasury Department
Comptroller's Office
Room 113, Finance Building
Harrisburg, PA 17120
Attn: Mark Accorsi
If a Pennsylvanian receives a PUA direct deposit payment in error, they should contact their financial institution to request a Refuse Credit of Deposit. If they are unable to complete a Refuse Credit of Deposit, recipients should write a personal check, cashier's check, certified check or money order payable to the "PA UC Fund" with a brief statement to explain why they are sending the payment to the address below:
Pennsylvania Department of Labor & Industry
651 Boas Street, Room 500
Harrisburg, PA 17121
Guidance Available for Parents With Children Returning to Child Care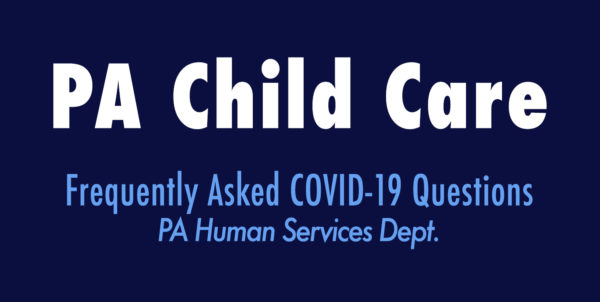 As the governor's COVID-19 restrictions begin to ease and more Pennsylvanians prepare to get back to work, new guidance is available for parents with children who will be returning to child care facilities.
All facilities are required to follow guidelines from the U.S. Centers for Disease Control specifically for child care centers. Under the guidance, all staff are required to wear masks, but children and youth are not required to do so. Masks are encouraged, but not required, for older youth in indoor or crowded settings. Additional requirements are also included for health screenings, sanitation, and notification if any staff member or child tests positive for COVID-19.
If you or someone you know is heading back to work and needs help finding child care options, help is available here.
New Scam Targets WIC Recipients
Pennsylvanians who receive benefits from the Women, Infants and Children (WIC) program have been targeted recently by scammers claiming to need banking information in order to deposit funds. It is important to remember to never disclose personal information over the phone without verifying the identity of the caller.
Recipients should contact their local WIC office if they have any questions about whether a request is legitimate. Any state resident who is targeted by similar schemes should also report the fraudulent activity to local law enforcement and file a complaint with the Attorney General online, by email at scams@attorneygeneral.gov or by calling 800-441-2555.
2020 Census is Happening Now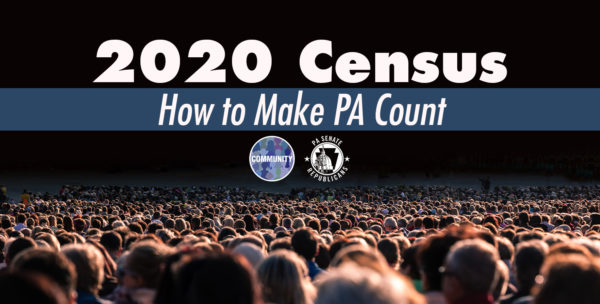 Beginning on August 11, census takers will begin visiting all households that have not responded to the 2020 Census. If you have not already completed the 2020 Census, it is not too late to complete the questionnaire and ensure local communities receive our fair share of federal funding and are properly represented at all levels of government.
More information about how to complete the 2020 Census online, by phone or by mail is available here. Information is also available online about national, state and county census response rates. Pennsylvania is ahead of the national average, but still approximately 7 percent behind the statewide response rate in 2010.