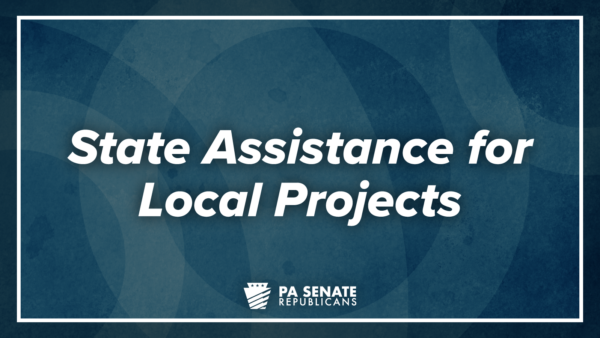 HARRISBURG – Sen. Mike Regan (R-31) today announced nearly $5 million in state grant funding has been awarded to projects in communities across the 31st Senate District.
"The funding made available through the Commonwealth Financing Authority will provide the support necessary to move forward with these important community projects," Regan said. "These projects will make a positive impact on the residents who live in these communities and I look forward to their completion."
Cumberland County communities will benefit from six grants totaling more than $2.5 million. Cumberland Area Economic Development Corporation (CAEDC) was awarded more than $36,000 to help Cumberland Valley Rails-to-Trails Council acquire land in Mechanicsburg Borough and Silver Spring Township. CAEDC also will receive more than $100,000 for Friends of the West Shore Theatre to pay for design costs associated with a rear addition to the theater. Hampden Township was awarded nearly $1 million to pay to rehabilitate the Hampden Pool. Mechanicsburg Borough will receive more than $675,000 for a streetscape project being implemented by the Downtown Mechanicsburg Partnership. New Cumberland Borough has been awarded nearly $50,000 to develop a comprehensive recreation, park and trail network plan for the borough. South Middleton Township Municipal Authority will receive $750,000 to construct a waterline extension on south Spring Garden Street in the township.
York County residents will benefit from five grants totaling more than $1.3 million. Franklintown Borough Municipal Authority was awarded more than $185,000 to develop an alternative water source within the borough. Lewisberry Borough will receive more than $240,000 to restore Walnut Lane. Newberry Township was awarded more than $250,000 to purchase training equipment, an automatic license plate reader and patrol vehicles for use by the police department. Northeastern York County Sewer Authority will receive $160,000 to close an effluent line in East Manchester Township. York County Economic Alliance was awarded nearly $750,000 on behalf of Leg Up Farm to pay for energy efficiency improvements and the installation of a solar photovoltaic system.
Funding for the projects is being provided through the Commonwealth Financing Authority (CFA) Local Share Account (LSA) program, which uses gaming revenue to support projects in the public interest across the commonwealth.
The CFA was established in 2004 as an independent agency of the Pennsylvania Department of Community and Economic Development to administer the commonwealth's economic stimulus packages.
The Pennsylvania Race Horse Development and Gaming Act of 2004 provides for the distribution of gaming revenue through the CFA and its LSA program.
One additional grant was approved through a separate CFA program.
York Railway Company was awarded $500,000 to construct railroad improvements at its Lincoln Yard Facility in York City.
Funding for this project is being delivered through the CFA Multimodal Transportation Fund grant program, which provides financial support for projects to encourage economic development and ensure a safe and reliable transportation system for commonwealth residents.
More information about Regan is available by visiting his website at www.SenatorMikeReganPa.com.
MEDIA CONTACT: Bruce McLanahan
717-787-8524