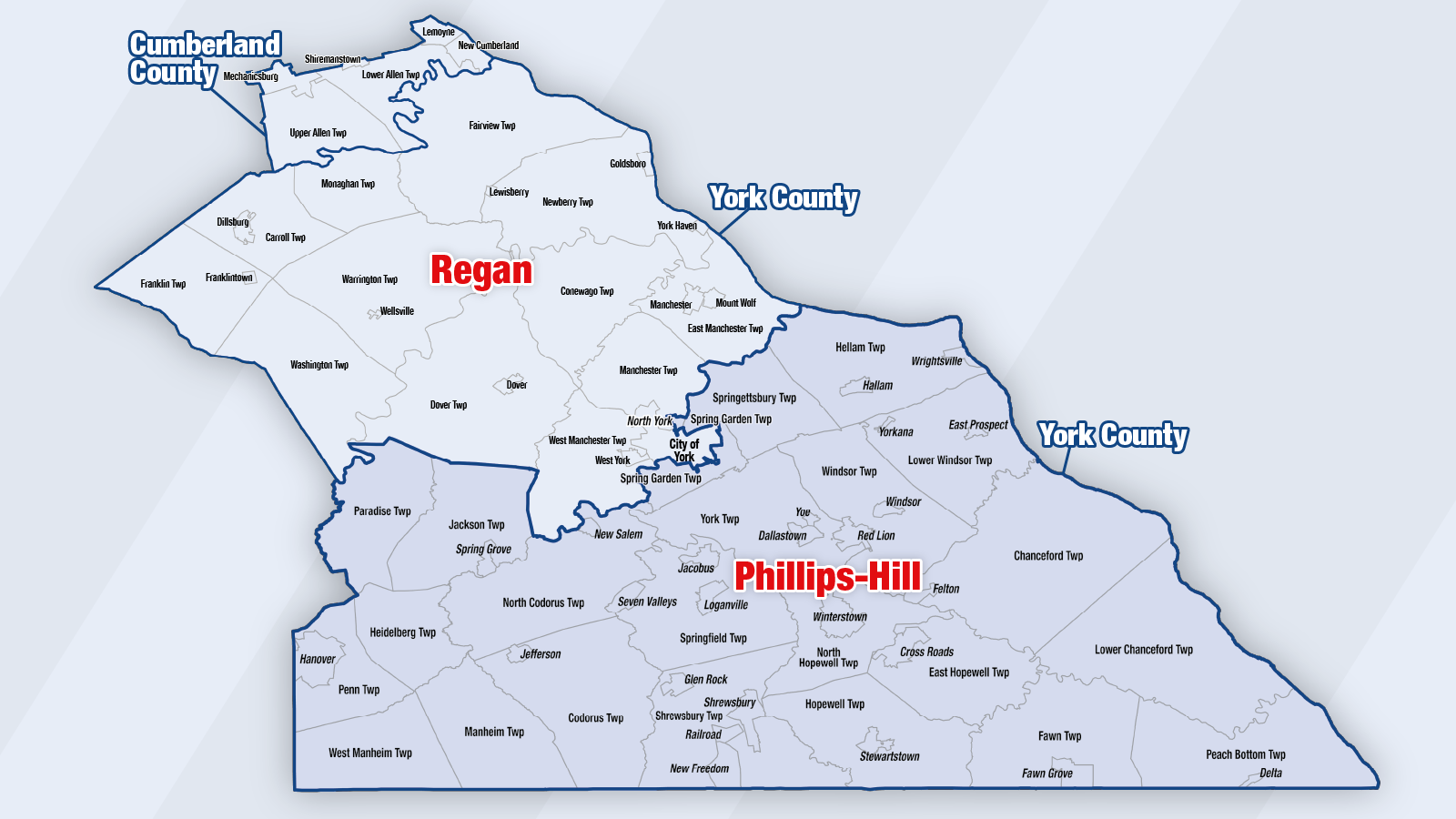 YORK – York County will move from having four state senators dividing the county to only two after the state's Legislative Reapportionment Commission maps go into effect on Dec. 1, 2022.
Sens. Kristin Phillips-Hill (R-York) and Mike Regan (R-York/Cumberland) will serve as the two state senators for York Countians in the Senate of Pennsylvania for the 2023-24 session.
Through the reapportionment process, Phillips-Hill's district will cover southern York County while Regan's district will include the northern half of the county, as well as several municipalities in southern Cumberland County.
Phillips-Hill's district moves her out of the following municipalities: York City, Manchester Township, West Manchester Township, and West York Borough, which will all be represented by Regan. Phillips-Hill will also pick up Jackson Township from Regan, as well as Hanover Borough, Penn Township and West Manheim Township, currently represented by Sen. Doug Mastriano (R-Franklin), and Springettsbury Township, represented by Sen. Chris Gebhard (R-Lebanon).
Regan's district will now include the following municipalities currently represented by Sen. Gebhard: Conewago Township, East Manchester Township, Goldsboro, Lewisberry, Manchester Borough, Mount Wolf Borough, Newberry Township and York Haven.
"It is bittersweet to shift out of the City of York, West York Borough, Manchester and West Manchester townships as part of this process given the inroads we have made, but I know those residents will be well-served by Sen. Regan," Phillips-Hill said. "I am very eager to get to work for the residents in Hanover Borough, and Jackson, Penn, Springettsbury, and West Manheim townships and continue to build on what we've been able to accomplish for southern York County."
"I have been a resident of York County for over 25 years, and I look forward to continuing to represent York and Cumberland Counties in the Senate of Pennsylvania," Regan said. "Since I was first elected to the House of Representatives in 2012, York County has been the pillar of my district, and I am excited about the new municipalities that fall in into the 31st Senatorial District and the work that lies ahead."
More information on the 28th Senatorial District, represented by Phillips-Hill, here.
More information on the 31st Senatorial District, represented by Regan, here.