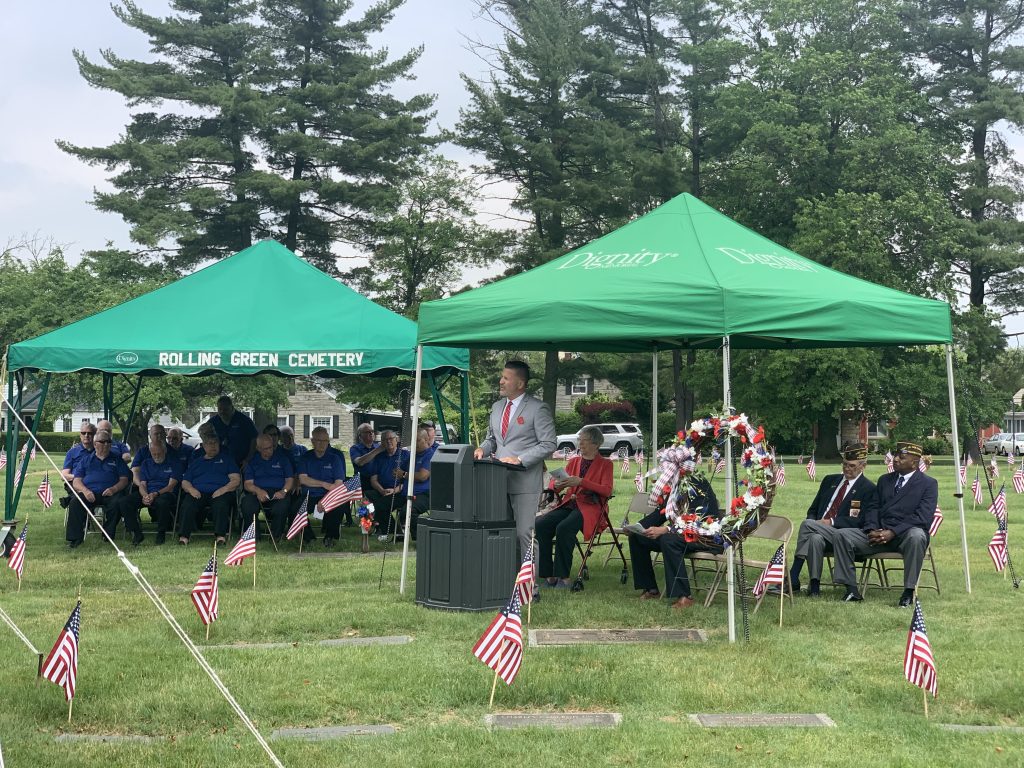 It is an honor to be here with you today. Thank you for allowing me to be part of this special ceremony here at Rolling Green Cemetery.
This location is befitting today's purpose – the remembrance of warriors, of heroes, of our brave soldiers who have gone before us.
As I look around these hallowed grounds I am reminded of the peace that comes from a life well-lived, and today we are reminded that the lives we honor were given so that we could gather as free Americans pursuing dreams and happiness – and ultimately, a life well-lived.
Memorial Day is a day of reflection and a day of remembrance, but it is also a day of gratitude.
Unfortunately, Memorial Day can be like Christmas, in that, many Americans forget "the reason for the season."
We sometimes get wrapped up in this being the unofficial start to summer and a long weekend involving picnics and celebrations.
As Americans, we no doubt, have a lot to celebrate this weekend.
But that is only because of our fine men and women who for more than 250 years now have donned a uniform and answered the call of duty to fight for their country – even when our country was divided, and the future of our nation was uncertain.
And now, as the United States of America, we are a free country thanks to the brave individuals who put country before self.
In ceremonies across our Commonwealth and the nation, Americans honor the memory of the fine men and women that made the ultimate sacrifice in their service to country and fellow man.
These individuals are our brothers, our sisters, our fathers, our sons, our mothers, and our daughters. They are our neighbors and our friends.
Memorial Day is not about battles fought or hills taken. It is about these ordinary people, making extraordinary sacrifices, and the loved ones they left behind.
It is also about the enormous debt we owe them and the gratitude we have for the gifts they have given us.
Here in Pennsylvania, we arguably have the strongest past of service and sacrifice when it comes to American military history.
Starting with the early days of militia men in the American Revolution and the encampment at Valley Forge.
Battles were then fought on our land during the Civil War, with one-third of all forces at the Battle of Gettysburg perishing on the field.
In World War I – Nearly 300,000 Pennsylvanians answered the call, and of those, more than 10,000 never returned home.
In World War II – One out of 7 members of the Armed Forces hailed from Pennsylvania with more than 900,000 men and 22,000 women serving in the armed forces.
From 1950 to 1953, Pennsylvanians fought with the South Koreans, and the 28th Infantry Division, the oldest in the U.S. Army, was one of several Pennsylvania National Guard divisions called to active duty during the crisis.
The Vietnam Memorial in Washington includes the names of 3,150 service members from Pennsylvania, and thanks to great efforts, each name now has a face to go with it on the virtual Wall of Faces tribute website.
The Gulf War and the wars against terrorism in the Middle East have continued to build the ranks of Pennsylvania's lost soldiers.
And that is something important for us to acknowledge. Today's reflections are just as much about those we lost 50, 100, or even 200 years ago, as they are about the young men and women who have given their lives in service in recent years.
These are young folks who have not had to experience the military draft like generations before them.
They themselves have recognized what it means to serve, and they have taken the initiative to join the greatest armed forces in the world just so that you and I can keep living in the greatest country of the world.
That is a fact we can all be proud of when too often, younger generations are not given the credit they deserve for the good they are doing.
As a father of four, including two young men – one 19 and a freshman in college and the other 15 and a freshman in high school – I am grateful for those that have it on their heart to serve their country.
While I would be very proud to see any of my children serve in the military, there is a sense of relief that as a parent, I do not have to experience the emotions of having a child called up through the draft.
Or the pain of having officers knock on the front door and deliver the heartbreaking news that a child has been killed in action.
To those who have been in that position, my heart aches for you.
I would be remiss if I did not also bring to attention the post-traumatic stress that many of our veterans live with in the wake of battle.
I have met these men and women while I served as Chairman of the Veterans Affairs and Emergency Preparedness Committee in the Senate.
They may have come home, but the demons that followed can shroud their lives in darkness.
While putting the name post-traumatic stress disorder to this is something more recent, the fact is, generations of veterans have been waging this personal battle for as long as we've been fighting wars.
Therefore, I believe it is important to not only honor those who have fallen but to pay tribute to all who have served and sacrificed for those freedoms we often take for granted.
I know I am preaching to the choir, but I encourage everyone to thank our soldiers and our proud veterans.
I say proud because I have had the privilege of hosting a Veterans Breakfast several times since being elected to the Senate, and like many of you today, attendees wear their hats, vests, and insignia with great pride.
For some, it has taken years and connections with other veterans to get to that point, but they do.
There is a camaraderie among our veteran population, regardless of when or where each has served.
They are there for each other for support, for guidance, or just for friendship.
May we never forget what our fellow men and women have fought for and the burden those who have returned to us carry with them.
General Douglas MacArthur, in an address at the West Point Military Academy in 1962, said, "The soldier, above all other people, prays for peace, for he must suffer and bear the deepest wounds and scars of war."
This weekend but more importantly, every day, we too should pray for peace – for our country, for the world, for our veterans, and especially, for those who grieve the loss of a loved one who has died in service.
The wounds you bear may not be visible to us, but just as with our veterans who carry a weight on their shoulders, we acknowledge the pain on your heart and the strength to continue forward in pursuit of a life well-lived in honor of your loved one.
In this fast-paced world, it is easy to become a nation that forgets where we came from and what those before us have done so that we may live life every day in this beautiful country.
Fortunately, more than 150 years ago three young women in Boalsburg, Pennsylvania, ensured that we do not forget, through their laying of flowers on the graves of their loved ones who had died in the Civil War.
This small act of remembrance was the start of what eventually became the national holiday that has brought us together today on this hallowed ground.
It is a great privilege for me to spend this time with you honoring and remembering all of our brave men and women in uniform that have made the ultimate sacrifice while giving us the gift of freedom.
Do not forget the "reason for the season" this weekend. We have much to celebrate as we gather with friends and family but remember those unable to do the same.
To those in the audience who have served or who have lost a loved one in the act of service to country, I thank you.
I want to assure you that we can recognize the valor, the service and the sacrifice that Pennsylvanians and fellow countrymen have made in the past and are continuing to make while serving around the world today.
God bless you all and God bless America.